Envision Technology Advisors is proud to announce that, for the 7th year in a row, the company has been named a "Best Place to Work in Rhode Island" by the Providence Business News and the Best Companies Group.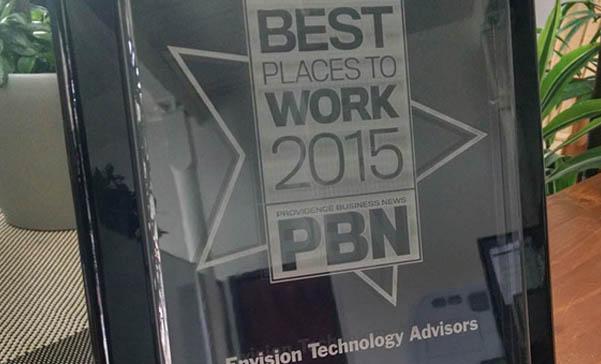 Companies named to the Best Places to Work list are chosen based on confidential surveys of company employees. Envision was first named to this list in 2009 and has received this honor each year since. In 2010, the company was ranked in 1st place in their business category (exact rankings are released at an awards dinner in June).
"Envision's culture is a direct reflection of our people," says Envision's CEO, Todd Knapp. "This award demonstrates to the community what I say all the time, which is that I'm fortunate to work among the best group of hearts and minds in RI."
Todd goes on to add, "Every year, I get calls from company owners and CEOs asking me what I've done to make the list. Every year I tell them that I haven't done anything - it's up to the people in the business to decide every morning what they will bring with them when they come in. Will it be optimism, energy, humor, and a passion for what they do…or will it be something else? In our best moments and in our worst, Envision's people have each chosen to make this company a Best Place to Work by bringing only the best with them when they walk through our doors."
More information on Envision and the culture they have built at the company can be found on their website's "Life at Envision" section. The full list of companies named to this year's Best Places to Work list can be seen on the Providence Business News website.